Get Informed, Get Involved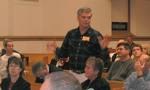 BelmontBudget.org is an informal association of Belmont (MA) Town Meeting Members organized to promote non-partisan public understanding about, and public input into, the Town budget process.
Click here to view a list of the Belmont Town Meeting Members who are sponsoring BelmontBudget.org.



BelmontBudget.org Principles
The public has a right to receive comprehensive information about Town finances;
The public has a corresponding responsibility to become informed about Town finances;
The public interest benefits from active public engagement with the Town's budget process; and
An interactive budget process, with the public both receiving information from, and providing information to, Town officials enhances the public interest.